Copic Markers are the highest quality, longest lasting, most versatile markers available anywhere. They have alcohol-based inks that dry acid free, are permanent and non-toxic, have guaranteed color consistency. The markers are refillable, have replaceable nibs, and have a 3 year shelf life. While Copic Markers are not fabric pens per se, we find them to be superior to fabric pens currently on the market for altering fabric colors (to provide highlights and shading). Copic Markers of different colors can be blended and can be "reactivated" after drying to allow you to continue working to get the shade, hue of color that you want.
Copic Ciao 6-Marker Sets -- $30.00 per set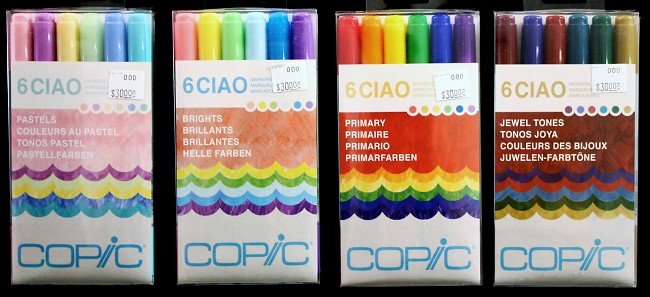 Please Note: Orders originating outside US no longer available through PayPal due to high cost of shipping.
Copic Marker Refills
You will need to set the Quantity for the number of colors selected in the Shopping Cart or you will receive only one Refill. List your colors separated by commas. (example YG63,B24)